Exhibitions
Thursday 3rd April - September 2014
Sailing Through The Trees
An Exhibition by Caroline Dowsett and Alex T. Frazer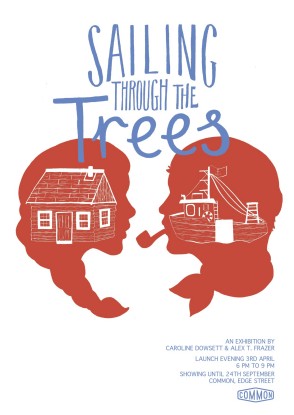 "Light a cigarette from a candle and a sailor dies at sea" – An Icelandic saying.
A shudder ran down her spine and the flame flickered as she lit her cigarette from the candle that had kept her company all night at the bar. She was drinking alone, her husband away at sea. The news of her husband's fortunes at sea reached her through a message in a bottle she found whilst staring out at the ocean longing for his safe return. It read:
"My love. What cruel fate has befallen me, swallowed alive by the deep blue sea. When I left you and set sail, how could I know my journey would end here, in the stomach of a whale. Be safe, be happy and live your life, love you always my beautiful wife x"
She was heartbroken as she stared at the cabin they shared together high up in the woods, too far from the cruel sea that would take him from her. When inspiration struck, the daughter of a carpenter, she found her father's tools and began to take the cabin apart. Pulling the timbers from the walls and carrying them down to the river.
The walls became her hull, the sheets and curtains a patchwork sail, using all she could from the cabin she was finally done. She pushed away and sailed down the river, through the trees, until finally she reached the ocean. The boat bobbed as she desperately stood on the bow searching for a sign. Suddenly the handmade vessel shook and the whale she was searching for rose out of the water like an enormous island. Its mouth opened wide to engulf the boat, as hard as she tried the whale quickly swallowed her up, sailing past its jagged rock like teeth across the tongue and into the deep darkness.
Landing in the depths of the whale's stomach, there she found her husband sat smoking his pipe, safe and sound but desperately missing his wife. They were happy to be reunited but saw no way of getting free from the inside the whale. So with her bag of tools, they took apart their boats and set about rebuilding their home.
Biography : 
Caroline Dowsett is an illustrator & maker based up North in Manchester, England. Her work is influenced by the simple pleasures in life; Nature, Food and People. Working mainly with ink & paint, and the smallest brushes she can get her hands on. Having studied Graphic Design at The Manchester School of Art, which fuelled her interest of text & image, now being mainly inspired by mid century children's books & graphic novels.
Alex T. Frazer an illustrator with an old soul, preferring to keep a traditional element to his work, whether it is the subject matter or the methods used to create it. He uses inspiration from the past, the sea & the land, old tattoos and flash sheets, old advertising, photographs and signage, traditional hand-drawn illustration, country music and punk rock.
---
Thursday 27 February - late August
Above & Below
An Exhibition by Rob Bailey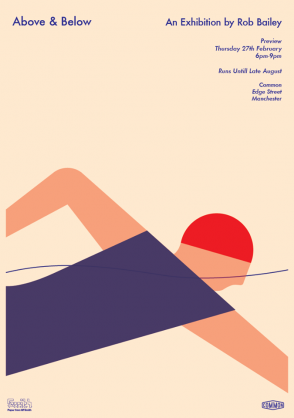 If three truly is the magic number then the next show at Common is going to be something rather special. It's been four years since Rob Bailey's last show here 'You', and six whole years since his first ever solo show 'Hello World' (the one with the huge dinosaur archway). We've been asking Rob to finish the trilogy for years now and he's finally succumbed to the pressure / found time to drag himself away from 'real' work to give us a brand new show, 'Above & Below'.
In the years since his last show at Common, Rob has cemented his place in the illustration world, he's joined the London agency 'Outline Artists' alongside illustration greats like Mr Bingo, Hvass and Hannibal. Rob has worked on projects for Google, Ford, The New York Times and the New Yorker to name but a few and he's even won an award at Cannes Lions. But all work and no play make Rob a dull boy, so he's coming back to where it all began to have a little bit of fun for a change and hopefully give us all something beautiful to look at while we eat, drink and be merry.
'Above & Below' is a collection of all new work from Bailey. There'll be original collages and limited edition prints for sale, but not satisfied with just covering our walls with his inimitable stylings he's 'branching' out this time, what does that involve, we hear you cry? He's keeping his cards close to his chest so you'll have to come and see it for yourself, but we guarantee all the colourful and deceptively simplistic charm we've come to expect from one of our favourite illustrators.
Rob Bailey – Above & Below
A1 Handmade Papercut
Singular print / framed / signed and numbered
Edition of 10
£120
A2 Handmade Papercut
Sold in pairs / framed / signed and numbered
Edition of 10
£140
A3 Two colour risograph prints
Edition of 50
£10 each
---
Thursday 3 October 2013 - March 2014
Beeraphilistic
An Exhibition by Various Artists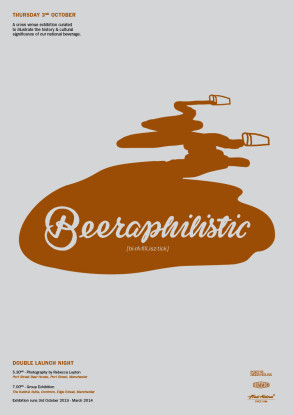 Beeraphilistic – bi-rA-fill,isz-tick.
The love and passionate yearning to collect, by any means, otherwise worthless pieces of beer and brewery paraphernalia or 'Breweriana', for example, labels, beer mats, bottle caps, pump clips, bottles, cans, mirrors, bottles openers, bar towels, promotional accessories.
Common are proud to present to you a collection of items from right across the pantheon of brewing, lovingly curated to illustrate the history and cultural significance of our national beverage. These pieces have been contributed by several collections throughout the country and will be on display as a part of a national tour of these artefacts. We hope to illuminate the past, present and future of beer and, given the place beer holds in our national psyche, the future for society.
Port Street Beer House have commissioned photographer Rebecca Lupton to take a tour of the beer festivals of Great Britain capturing the characters there, from volunteers who make these events come to life to the punters who have collectively propped up the bars, highlighting the passion and the spirit of the beer lover.