Exhibitions
Thursday 24th January - July 2013
Too Much Vino
An Exhibition by Billy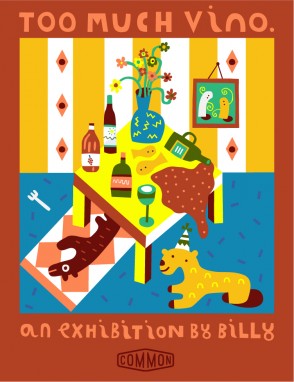 Billy is an English artist focussing on creating unique, colourful and positive artwork. From digital illustrations to large outdoor wall murals, the adaptability of Billy's work ensures that her signature style can be seen across a range of media in all shapes and sizes.
Taking influence and being inspired from traditional and contemporary African tribal culture, living in unfamiliar surroundings and keeping a positive perspective on life. The distinctive shapes, colours, characters and symbols in Billy's work are created with an intention to communicate a positive visual message and story and to make other people smile and be happy too. Billy's work has been taken into galleries around the UK, Germany and Belgium and can be seen decorating the streets of London, Berlin, Madrid, South Africa and beyond.
'Too Much Vino' is a visual account from Billy beginning in her younger days on a river in South Africa, observing her parents and their friends get completely drunk and disorderly, right through to the present day where Billy resides in Berlin and enjoys a drop of wine herself. It is a documentation exploring how the development of a taste for wine, a love of colour and the search for happiness can work together in such harmony (or not, if you've drunk too much vino).
---
Thursday 1st November - April 2013
Once Upon A Time On Edge Street
An Exhibition by Various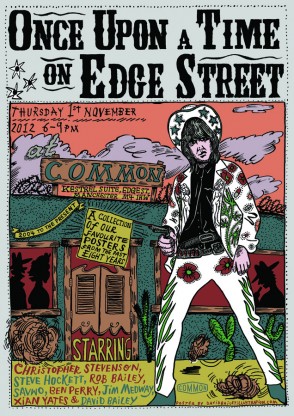 2004 to the present day.  A collection of our favourite posters from the past eight years – Starring Christopher Stevenson, Steve Hockett, Rob Bailey, SAVWO, Ben Perry, David Bailey, Xian Yates and Jim Medway.
From the bleak landscape of Pendle Hill to the bright geometric shapes of Rob Baileys world, we have spent the past few weeks picking out the best bits from the Common poster archive. There was SO much to choose from, we have hopefully up held a high standard of visual representation for our 'promotional campaigns' over the past few years! We also have a lot of talented friends who like making lovely posters for us.
So with great honour we have put these all in one place for you to look at, on Thursday 1st November you can join us in the Kestrel Suite for a free Hendricks gin (or two). Some of the posters have been sized up to show them off in all their glory, you can even purchase your own piece of Common history. Some may even call it art!
Thursday 1st November / 6pm – 9pm / Taking place in the Kestrel Suite.
---
2nd August 2012 until late January 2013
Pop And Roll
An Exhibition by Nicholas Saunders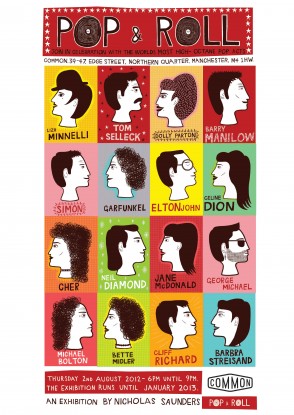 Nicholas Saunders is a freelance artist, screen printer and illustrator based in Manchester, creating a huge range of printed ephemera. Over the passed two years he has exhibited work in San Francisco, Berlin, London, Macedonia and Manchester.
Pop and Roll sees Nick's fascination with the world of pop music come to light in his technicolor exhibition of 'forgotten pop concert posters', 'classic lyrics' and a general homage to all things pop! Join us in celebration as we gaze at the delights of popular culture and wriggle in all its glory.
Come along to Common for the exhibition launch at 6pm on Thursday August 2nd 2012, a total indulgence in all things to do with popular culture including a series of screen printed pop posters, shiny things, scum bag paparazzi, tribute acts and not forgetting 'Cher Modem' for instant access to all things pop online.
'Sex bomb, sex bomb, you're a sex bomb, you can give it to me when I need to come along' Sir Tom Jones
'I'm afraid of the dark, especially when I'm in the park, when theres no one else around, ooooooh! I get the shivers. I don't wanna see a ghost it's the side that I fear most, rather have a piece of toast, watch the evening news" Des'ree Life
Prints are available to order from the bar:
A1 – £80
A3 – £40
Canaletto Stock 300gms
/ please allow one week for delivery