Exhibitions
Thursday 3 October 2013 - March 2014
Beeraphilistic
An Exhibition by Various Artists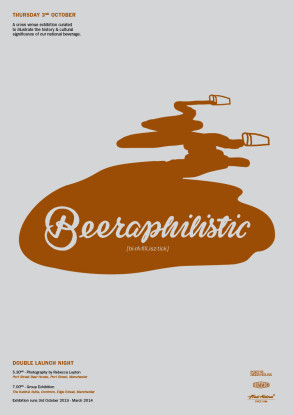 Beeraphilistic – bi-rA-fill,isz-tick.
The love and passionate yearning to collect, by any means, otherwise worthless pieces of beer and brewery paraphernalia or 'Breweriana', for example, labels, beer mats, bottle caps, pump clips, bottles, cans, mirrors, bottles openers, bar towels, promotional accessories.
Common are proud to present to you a collection of items from right across the pantheon of brewing, lovingly curated to illustrate the history and cultural significance of our national beverage. These pieces have been contributed by several collections throughout the country and will be on display as a part of a national tour of these artefacts. We hope to illuminate the past, present and future of beer and, given the place beer holds in our national psyche, the future for society.
Port Street Beer House have commissioned photographer Rebecca Lupton to take a tour of the beer festivals of Great Britain capturing the characters there, from volunteers who make these events come to life to the punters who have collectively propped up the bars, highlighting the passion and the spirit of the beer lover.
---
Thursday 8th August - February 2014
The Common World
An Exhibition by Various Artists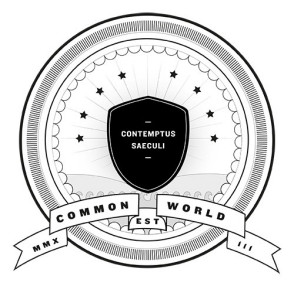 UHC, Textbook Studio, Catherine Chialton and Alan Dalby present Common World, an exhibition by nine Manchester-based artists exploring contemporary global crises, through art, satirical role-play and their own mint.
Environment, Energy, Education, Food, Social, Economic, Political and Alternatives are eight of the core issues facing humanity in the modern age. In response to these issues, a team of artists and designers have assembled to interpret and represent these crises. In a playful, engaging, and interactive exhibition, The Common World artists have created a micro-society in which these crises play out, inviting visitors to become players in the future of humanity.
Crops are failing, food prices are rising and there is unequal distribution of stuff to eat around the globe… We need to move away from the fossil fuels that are simultaneously running out, getting more expensive, and destroying the environment…The gap between the 'haves' and the 'have nots' is widening…Boom and bust still exists. Why do we need perpetual growth? Why not measure success in an alternative way…? Education is being commodified and geared towards propagating the status quo…We may have the same aims but we all argue about how to reach them. We don't know which crisis to deal with first, but when we do deal with them multiple groups compete about who has the correct solution…
On Thu 8 August, Common will be transformed into a microcosmic self-contained world complete with its own social hierarchies, ecological issues and economy built on specially minted currency. Each artist will personify one the of crises explored in the exhibition by becoming a Minister of the Common World, and visitors can exchange their 'real' money for the Common Dollar, which can be used to buy as much merchandise, food and drink as the fluctuating exchange rates allow.
In conjunction with The Common World, Stop Making Sense have invited the artists to guest DJ at a series of monthly themed nights, responding to each of the eight crises, throughout the exhibition.
The concepts driving Common World will be further explored in a specially commissioned magazine, and a programme of events are to be announced to accompany the exhibition.
---
Thursday 1st March - Late July 2012
Eggs No Soldiers and other Unseen Moments
An Exhibition by Teacake Design and the Late Tom Culley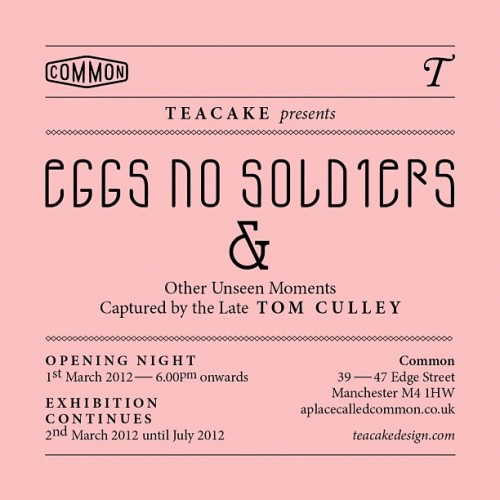 From March 1st 2012 Teacake will be exhibiting a special collection of photographs taken by the late Tom Culley. Split over two venues, this installation of large-scale images offers a glimpse into the varied past times of one man and his closest companions.
Discovered inadvertently, these images taken from a collection of over 5000 meticulously cherished slides portray life through the eyes of an accomplished amateur photographer. Always fascinated by the colourful antics of ordinary people enjoying extraordinary activities this perspective is both personal and insightful.
Tom's passion for photography was simple; his aim was to preserve the funniest, most charming, most special and most poignant moments in order to share them with his loved ones.
Now we are lucky enough to be able to share them with you in the form of 'Eggs no Soldiers'' at Common and ''A Pint of Mixed' at Port Street Beer House.
/ BIOGRAPHY
Born on the 17th August 1925, Thomas Culley attended St Peters School, Accrington. In 1939 he was apprenticed as a painter and decorator at Milton Fodens. Before joining the Royal Navy as an Able Seamen in the Gunnery Branch Battleship King George V in 1943. As part of the Pacific fleet he was present at the formal surrender of the Japanese in Tokyo Bay 1945.
Returning home, Tom joined the Lancashire County Fire Brigade and served as a Sub Officer for 30 years at Accrington Fire Station. He received the long service medal and good conduct medal in 1971 before retiring in 1980. As a keen fisherman and model boat enthusiast Tom enjoyed a full itinerary of hobbies including painting, drawing and shooting cine films. An avid reader, he also had an extensive knowledge of local history. Tom died at the age of 84 in Lancashire on the 8th April 2010.
Prints for sale :
A4 – £20
A2 – £60
A1 – £80
(please enquire at the venue or email dunk@aplacecalledcommon.co.uk)