Massive Deliveries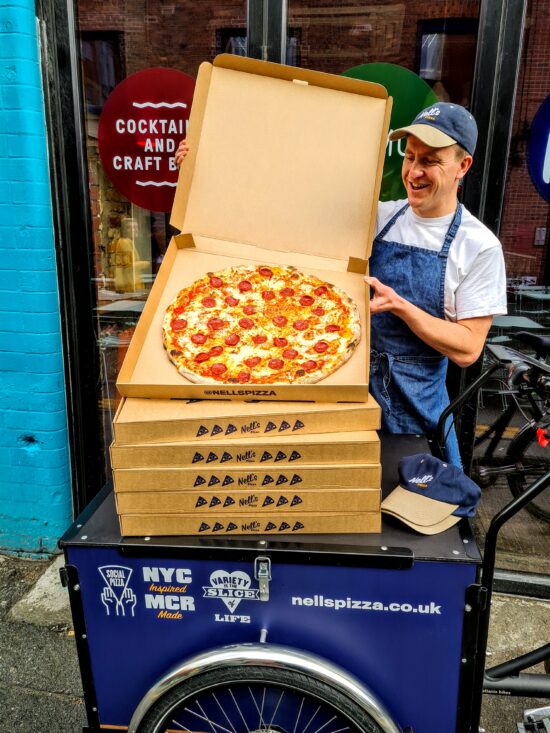 You can finally get Nell's (now internationally) famous 22″ pies delivered to your door. 
After the sheer size of the boxes thwarted Deliveroo, we've had to have a bit of a think. Now, if you live in M1, M2, M3 or M4 we'll come and drop off your pizza – and a new addition of booze bundles – right on your doorstep (before retreating to a socially acceptable distance, of course).
If M1, 2, 3 or 4 are not your magic numbers, you can order pies to collect from Nell's current home at Common, on Edge St in the Northern Quarter.
22in Pizzas will be available for delivery and collection between 6pm-8pm, Tuesday – Sunday from November 10th. You'll find faves such as the 'Do You 'Roni, Honey' the 'Vegan Deluxe' 'Cacio e Pepe' and the classic 'Original Cheese' – you can go half and half, order a whole one each, whatever you fancy. 
Orders can be placed up to two hours prior and slots are limited! Order by phone (0161 832 9245) or by email (massivedeliveries@nellspizza.co.uk).
Minimum order for delivery is £40.
Menu
(Click to jump to section)
Pizza
Garlic Bread
Dips
Drinks Bundles
Wine
Natural Wine
Soft Drinks
22″ Pizza
ORIGINAL CHEESE (v)
Crushed tomato, mozzarella blend, parmesan, evoo – £22
MARINARA (ve)
Good tomato, good oil, sliced garlic, good oregano. No cheese. – £16
CACIO E PEPE
Black pepper cream, mozzarella blend, pecorino – £24
HAWAIIAN
Mozzarella, smoked cheese, forza sauce, Littlewoods Butchers ham, roast pineapple, green chilli, chilli honey. – £30
UPSIDE DOWN MARGHERITA (v)
Mozzerella blend, marinara sauce, basil oil, fresh basil, parmesan. – £24
GREENS
Roast garlic cream, chilli, smoked lancashire, fior de latte, seasonal greens, parm. – £26
VEGAN DELUXE (ve)
Marinara base, artichokes, marinated peppers, red onion, garlic, 'vegan'duja'. – £28
CHEESE & ONION PIE (v)
Roast garlic cream, mozzarella, lancashire cheese, burnt onion, chives, parmesan – £28
VEGANIC (ve)
Mushrooms, roast garlic cashew cream, chilli, forza win sauce, thyme. – £24
SAUSAGE & PEPPERS
House marinated peppers, house sausage, mozzarella blend, chives. – £30
DO YOU 'RONI HONEY?
Cobble Lane Pepperoni, nduja, crushed tomato, mozzarella blend, chilli honey. – £30
ORIGINAL SAUSAGE MATERIAL
Crushed tomato, mozzerella, house sausage, pepperoni, jalapenos, house fermented chilli. – £30
MARINARA PLUS (ve)
Marinara base, finished with choped black olives, breadcrumbs, basil oil, fresh basil. – £22
GARLIC BREAD (13″)
CBGB Garlic Bread
Cheese, butter, garlic, bread. And chives. – £6
VGB Vegan Garlic Bread
Roast garlic cashew cream, slice garlic, garlic oil, chives – £6
PGB Primo Garlic Bread
Roast garlic cream, mozzarella, smoked cheese, sliced garlic, black garlic ketchup, chives. – £9
DIPS
House Chilli Sauce – £2
House Marinara Sauce – £2
Garlic & Herb Dip – £2
Drinks Bundles
4 x Augustiner Helles Lager 5.2% 500ml – £16
4 x Cloudwater West Coast Pale 4% 440ml – £18
4 x Deya Into The Haze IPA 6.2% 500ml – £20
4 x Deya Invoice Me For The Microphone IPA 6.5% 500ml – £20
4 x Deya Go Back For More Tokens IPA w/ Citrus Zest 6.2% 500ml – £20
4 x Deya Steady Rolling Man Pale Ale 5.2% 500ml – £18
4 x Deya Written In The Dust DIPA 8% 500ml – £22
4 x Flensburger Pilsener 4.8% 330ml – £10
4 x Fruh Lemon Radler 2.5% 500ml – £10
4 x Magic Rock Highwire West Coast Pale Ale 5.2% 330ml – £12
4 x Magic Rock Highwire Grapefruit Pale Ale 5.5% 330ml – £12
4 x Magic Rock Saucery IPA 3.9% – £12
4 x Red Willow Ageless IPA 7.2% 440ml – £20
4 x Schofferhoffer Grapefruit 2.5% 500ml- £10
4 x Squawk Pavo Pale Ale 3.8% 440ml – £18
4 x Three Hills Legacy: Anglian Dark Ale 5.5% 300ml – £18
4 x Three Hills Co-Ordinates Witbier 5% 440ml – £18
4 x Track Half Dome 5.3% 440ml – £18
4 x Track Zuma 4.8% 440ml – £20
2 x Vacay Blood Orange Vodka Soda 5.2% 330ml + 2 x Vacay Tom Collins 6.1% 330ml – £24
Wines
White
Calavera Vino Blanco 13% – £18
Turtle Bay Sauvignon Blanc 12.5% – £23.50
Janelas Antigas Vinho Verde 11.5% – £21
Red
Le Jardin Cabernet Sauvignon 12.5% – £21
Rose
Morador Rosado 12.5% – £20
Sparkling
Pirani Prosecco D.O.C. Extra Dry 11% – £25

Natural Wines
White
Chateau de Saint-Cyrgues, Costieres de Nimes Blanc 2019 12% – £25
Vaira Vincenzo Bianco 12% – £29
Red
Vina Ilusion Rioja Blanco 12.5% – £27
La Boussole Pinot Noir 2018 13.5% – £24.50
Bodegga Cecchin Malbec 13.5% – £28
Orange
Baglio Antico Bianco IGP Cataratto NL 12% – £31
Rose
Capdevielle Elegance Provence Rose 12.5% – £29.50
Softs/Low Alcohol
Bundaberg Ginger Beer 375ml – £3.20
Booch & Brew – Ginger & Lemon Kombucha 330ml – £4
Booch & Brew – Strawberry & Mint Kombucha 330ml – £4
Sparkling Water 330ml – £1.50
Steep Soda – Hibiscus Lemonade 330ml – £3
Steep Soda – Apple 330ml – £3
Steep Soda – Orange 330ml – £3
Square Root – Citrus Crush 275ml – £3.50
Square Root Rhubarb Soda 275ml – £3
Erdinger, Alkoholfrei Isotonic Wheat Beer, 500ml – £3
Veltins Alcohol Free 330ml – £3
Posted in Food