Massive Deliveries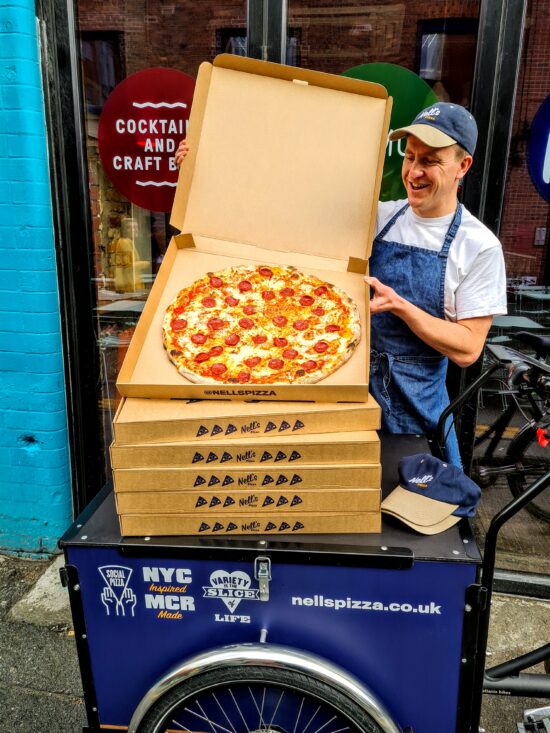 Please note – we're currently closed during the early 2021 lockdown. Stay tuned to our socials (Twitter, Instagram, Facebook) for the latest.
–
You can finally get Nell's (now internationally) famous 22″ pies delivered to your door. 
After the sheer size of the boxes thwarted Deliveroo, we've had to have a bit of a think. Now, if you live in M1, M2, M3 or M4 we'll come and drop off your pizza – and a new addition of booze bundles – right on your doorstep (before retreating to a socially acceptable distance, of course).
22″ Nell's are available for delivery and collection between 6pm-8pm, Tuesday – Sunday – we're also able to cater office parties or similarly socially distanced events on Friday 11th & 18th of December, 12 – 6pm.
Orders can be placed up to two hours prior and slots are limited! Order by phone (0161 832 9245) or by email (massivedeliveries@nellspizza.co.uk).
Minimum order for delivery is £40.
Menu
(Click to jump to section)
Pizza
Garlic Bread
Dips
Drinks Bundles
Wine
Natural Wine
Soft Drinks
22″ Pizza
ORIGINAL CHEESE (v)
Crushed tomato, mozzarella blend, parmesan, evoo – £22
MARINARA (ve)
Good tomato, good oil, sliced garlic, good oregano. No cheese. – £16
CACIO E PEPE
Black pepper cream, mozzarella blend, pecorino – £24
HAWAIIAN
Mozzarella, smoked cheese, forza sauce, Littlewoods Butchers ham, roast pineapple, green chilli, chilli honey. – £30
UPSIDE DOWN MARGHERITA (v)
Mozzerella blend, marinara sauce, basil oil, fresh basil, parmesan. – £24
GREENS
Roast garlic cream, chilli, smoked lancashire, fior de latte, seasonal greens, parm. – £26
VEGAN DELUXE (ve)
Marinara base, artichokes, marinated peppers, red onion, garlic, 'vegan'duja'. – £28
CHEESE & ONION PIE (v)
Roast garlic cream, mozzarella, Lancashire cheese, burnt onion, chives, parmesan – £28
VEGANIC (ve)
Mushrooms, roast garlic cashew cream, chilli, forza win sauce, thyme. – £24
SAUSAGE & PEPPERS
House marinated peppers, house sausage, mozzarella blend, chives. – £30
DO YOU 'RONI HONEY?
Cobble Lane Pepperoni, nduja, crushed tomato, mozzarella blend, chilli honey. – £30
ORIGINAL SAUSAGE MATERIAL
Crushed tomato, mozzerella, house sausage, pepperoni, jalapenos, house fermented chilli. – £30
MARINARA PLUS (ve)
Marinara base, finished with chopped black olives, breadcrumbs, basil oil, fresh basil. – £22
GARLIC BREAD (13″)
CBGB Garlic Bread
Cheese, butter, garlic, bread. And chives. – £6
VGB Vegan Garlic Bread
Roast garlic cashew cream, slice garlic, garlic oil, chives – £6
PGB Primo Garlic Bread
Roast garlic cream, mozzarella, smoked cheese, sliced garlic, black garlic ketchup, chives. – £9
DIPS
House Chilli Sauce – £2
House Marinara Sauce – £2
Garlic & Herb Dip – £2
Drinks Bundles
4 x Augustiner Helles Lager 5.2% 500ml – £16
4 x Cloudwater West Coast Pale 4% 440ml – £18
4 x Deya Into The Haze IPA 6.2% 500ml – £20
4 x Deya Invoice Me For The Microphone IPA 6.5% 500ml – £20
4 x Deya Go Back For More Tokens IPA w/ Citrus Zest 6.2% 500ml – £20
4 x Deya Steady Rolling Man Pale Ale 5.2% 500ml – £18
4 x Deya Written In The Dust DIPA 8% 500ml – £22
4 x Flensburger Pilsener 4.8% 330ml – £10
4 x Fruh Lemon Radler 2.5% 500ml – £10
4 x Magic Rock Highwire West Coast Pale Ale 5.2% 330ml – £12
4 x Magic Rock Highwire Grapefruit Pale Ale 5.5% 330ml – £12
4 x Magic Rock Saucery IPA 3.9% – £12
4 x Red Willow Ageless IPA 7.2% 440ml – £20
4 x Schofferhoffer Grapefruit 2.5% 500ml- £10
4 x Squawk Pavo Pale Ale 3.8% 440ml – £18
4 x Three Hills Legacy: Anglian Dark Ale 5.5% 300ml – £18
4 x Three Hills Co-Ordinates Witbier 5% 440ml – £18
4 x Track Half Dome 5.3% 440ml – £18
4 x Track Zuma 4.8% 440ml – £20
2 x Vacay Blood Orange Vodka Soda 5.2% 330ml + 2 x Vacay Tom Collins 6.1% 330ml – £24
Wines
White
Calavera Vino Blanco 13% – £18
Turtle Bay Sauvignon Blanc 12.5% – £23.50
Janelas Antigas Vinho Verde 11.5% – £21
Red
Le Jardin Cabernet Sauvignon 12.5% – £21
Rose
Morador Rosado 12.5% – £20
Sparkling
Pirani Prosecco D.O.C. Extra Dry 11% – £25

Natural Wines
White
Chateau de Saint-Cyrgues, Costieres de Nimes Blanc 2019 12% – £25
Vaira Vincenzo Bianco 12% – £29
Red
Vina Ilusion Rioja Blanco 12.5% – £27
La Boussole Pinot Noir 2018 13.5% – £24.50
Bodegga Cecchin Malbec 13.5% – £28
Orange
Baglio Antico Bianco IGP Cataratto NL 12% – £31
Rose
Capdevielle Elegance Provence Rose 12.5% – £29.50
Softs/Low Alcohol
Bundaberg Ginger Beer 375ml – £3.20
Booch & Brew – Ginger & Lemon Kombucha 330ml – £4
Booch & Brew – Strawberry & Mint Kombucha 330ml – £4
Sparkling Water 330ml – £1.50
Steep Soda – Hibiscus Lemonade 330ml – £3
Steep Soda – Apple 330ml – £3
Steep Soda – Orange 330ml – £3
Square Root – Citrus Crush 275ml – £3.50
Square Root Rhubarb Soda 275ml – £3
Erdinger, Alkoholfrei Isotonic Wheat Beer, 500ml – £3
Veltins Alcohol Free 330ml – £3
Posted in Food