Tombed Visions gig 29/01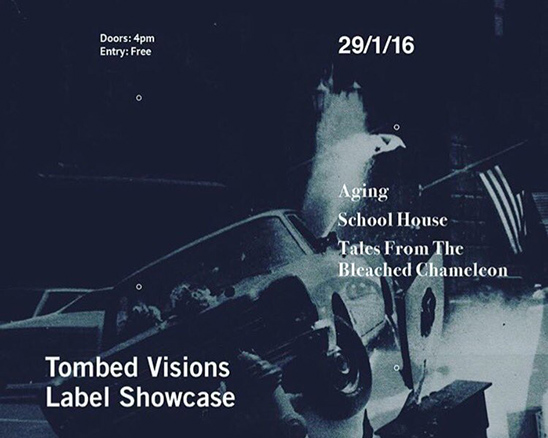 TOMBED VISIONS LABEL SHOWCASE w/ Tales from the Bleached Chameleon, School House, Aging
Sunday 29th January 2017 / 4pm – late / free entry
In a new series of monthly events focusing on independent labels we are kicking of 2017 with a showcase from Manchester's Tombed Visions.
Tombed Visions is a cassette based label specialising in sound art, ambient music, experimental electronica and more. With accolades from The Wire, The Quietus (cassette label of the year in 2014) and Elctronic Beats (10 leading cassette UK Cassette labels), David McLean's Tombed Visions has become an integral part of the Manchester experimental music scene.
For this showcase, David McClean (Tombed Visions) has curated a line up of three acts from the Tombed Visions roster, ranging from esoteric techno to noir laden blues, two acts of which will be making their live debut.
The event runs from 4pm with performances at 6pm 7pm & 8pm, and Tombed Visions DJs soundtracking the rest of the evening.
TALES FROM THE BLEACHED CHAMELEON
Gareth Smith of Vanishing creates surrealist short stories that act as absurdist allegories of the struggles of contemporary Britain. McLean crafts a reactive and automatic soundtrack to Smith's prose.
SCHOOL HOUSE
School House an electronica project from Manchester.
"Textually, it resembles the dense minimalism of Pauline Oliveros or Makoto Kawabata's most cosmic excursions, but the inclusion of rhythm adds an intoxicating sense of urgency and drama. Even by dizzying standards of the prolific underground of greater Manchester, the heavy textures and inundated tendrils of this music are hard to resist."
• The Wire
His album Herd was featured in Boomkats Top 25 records of 2015 by Blackest ever Black
AGING
Originally a solo project, Aging has blossomed into a functioning band, including Double Bass, Keys and Saxophones that chronicle noirish balladry and bar room dirges, painting a murky, slowly unfurling portrait of man under the influence.
"By the climactic, bittersweet tones of sax at the cassette's tail end, Aging have truly asserted themselves as world class masters of atmospheric, jazz-influenced gothicism, second only to the likes of Bohren und der Club of Gore."
– Tristan Bath, The Quietus
Cost: Free!!!
Artwork by Lewis McLean.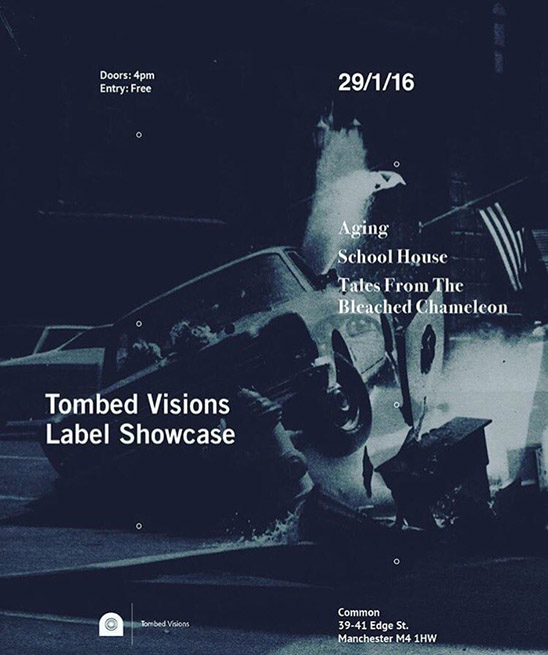 Posted in Events