Record Fair 23/11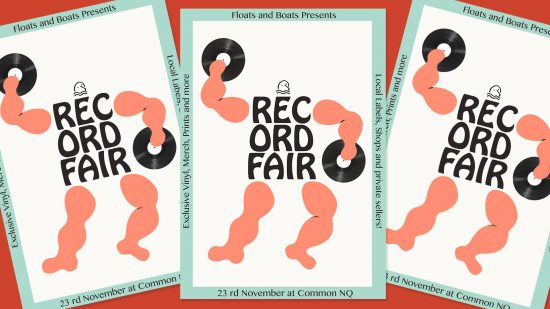 Floats and Boats presents MANCHESTER RECORD FAIR
Thursday 23rd November 2017 / 7pm-late
Common
Really quite pumped to be having a record fair at Common! Here's Floats and Boats to take it away with the info…
"Imagine a dystopian future where fake tan enthusiast Donald Trump takes charge of the most powerful nation in the world, Mary Berry leaves Bake Off, meat is grown in labs and SAINSBURY'S sells records. Well look no further than outside your front door!
When the present is this terrifying, god knows about the future? The only recourse is too take solace in the past! Vinyl is back (although it never really left), it's warm analogue tones soothing the terror of modern existence…Join us as we explore Manchesters diverse and rich vinyl culture. we have invited both new labels and old favourite haunts down to Common on the 23rd of November to revel in all things vinyl. New music, old music, weird music, forgotten favourites and maligned classics, come look to the future through the medium of the past!
As always, we at Floats and Boats will be putting up some lovely prints from some of Manchesters finest young talents alongside all the tunes on offer, so if your more visually than audio inclined then we have got you covered.
Participating sellers confirmed so far are –
Eastern Bloc
https://www.facebook.com/EasternBlocRecords/
Established in 1985, Eastern Bloc's long running championing of record culture in Manchester needs little introduction! One of the earliest UK record shops Supporting and importing dance music, previously located in Afflecks Palace and now residing in Stephenson Square few shops in the world, never mind Manchester can boost such a wealth of previous customers and staff, including Laurent Garnier, Mike Pickering, Graeme Park, Sasha, Chemical Brothers, DJ Marky, Anthony Shake Shakir, Pepe Bradock, Josh Wink, Ben Sims, Derrick Carter, Carl Cox, and Marcus Intelex amongst others. Eastern Bloc remains a relevant and positive force in Manchester and we look forward to what goodies they will bring down to Common on the 23rd!
Natural sciences
https://www.facebook.com/naturalsciencesrecs/
Under the firm hands of label boss Animal, Natural Sciences have been steering a steady course through the murky waters of warped house, mutant techno and freak inducing electro for some time now. Putting out stellar records by Textasy (https://www.youtube.com/watch?v=P8mjhkP7ZqA) and E Davd (https://www.youtube.com/watch?v=uZNkd2Dg6nQ) amongst other talented luminaries. Also dabbling in the recent cassette resurgence, Natural Sciences have plenty on offer. Check Animal's NTS Manchester show out https://www.nts.live/shows/natural-sciences for more turbine funk.
Banana Hill
(https://www.facebook.com/bananahill/)
Beginning life as a successful eclectic night stemming from Sheffield but spreading across the country, the brainchild of Cervo and JVC, Banana Hill serves up rhythm infected dance floor music across a truly diverse spectrum. The Label of the same name maintains this identity, whilst only fledging its debut, fielding a sensitive set of edits by Cervo of Moroccan musician Mijid Bekkas, stays loyal to the original instrumentation but rolling in its bassline, http://www.stampthewax.com/2017/04/04/premiere-majid-bekkas-mrhaba-cervo-edit/. Come down and check it out and any other treats they may have in store.
Leon Paddock (Private collection)
https://www.discogs.com/label/10500-Ourtime-Music
Leon paddock is a longtime Manchester collector and part of local label Ourtime Music. While Ourtime's main focus is on deep, melodic, Detroit style techno Leon's personal collection knows no boundaries and it is from these deep crates he will be selling! Expect to see an array of rare gems on sale featuring Electro, Hip Hop, Soul, Funk, Boogie, Disco, Post Punk, New Wave, Indie, House, Techno, Jungle, Drum & Bass, Balearic, Soundtracks, Ambient, Dub, Reggae, Afro, Jazz, I.D.M.
With 34 years of vinyl expertise compressed into one stall, this isn't to be missed
And more to be announced!"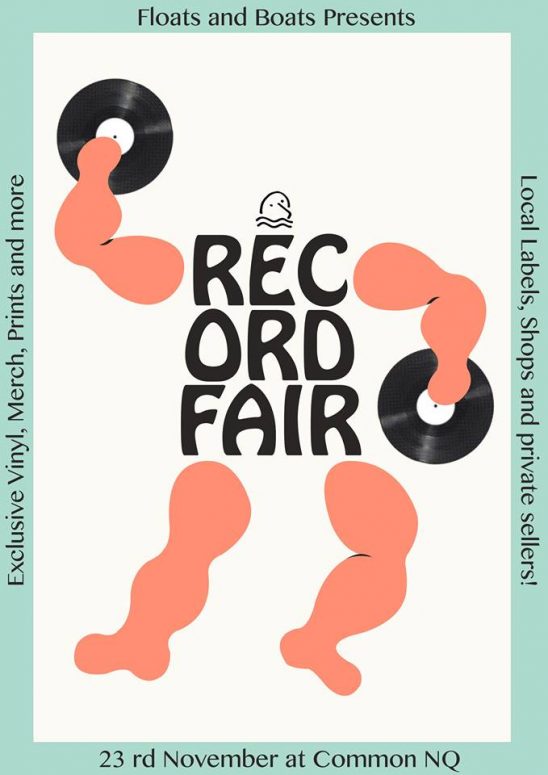 Posted in Events