Record Fair 15/02/18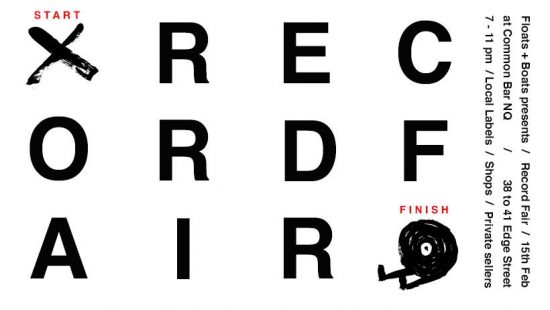 MANCHESTER RECORD FAIR 
Thursday 15th February 2018 / 7pm-11pm
Common
Hot dang! Floats and Boats are back to bring you another record fair at Common and our most super-est event of 2018 so far. Drop in for an informal browse, flick, and dare I say a tilt of the pint. Floats and Boats DJs will be hand to aid your journey, surrounded by independent labels, record shops and private sellers.
Here's what organisers Floats and Boats have to say…
"Hey if you're into an analog sound storage medium consisting of a flat disc with an inscribed modulated spiral groove usually starting near the periphery and ending near the centre of the disc, then we have an event that you, yes you! may be interested in, across both virtual and real domains!
On the 15th of February Floats and Boats returns to Common in the northern quarter to host another record bonanza. Again inviting a fine selection of grizzled record merchants making the arduous trek from across the greater Manchester laden down with elaborate and desirable party discs from across the sonic spectrum for your grubby mitts.
Line up so far…..
Hi Tackle
http://www.hitackle.com/ https://www.facebook.com/hitacklerecords
Located above Hidden night club in the shadow of Strangeways prison, the Hi-Tackle record shop has been slinging top quality records both old and new of all styles, ranging from battered heavy early 90's break-hardcore killers, to pristine modern funk bombs. Rarities and super slept on hits. Founded by Randy Marsh and with Ruf Dug on staff – expect plenty of tried and tested Wet Play bangers in the racks.
The Onotesla Shop
http://onotesla.tictail.com/
Born of the synergic combination between Manchester Stalwarts Gnod's Tesla Tapes and Michael Holland's Ono label, OnoTesla will be bringing all sorts of goodies and exclusives bits to Common. Curating anything from field recordings in Ethiopia to riotous industrial, its one for the eclectic collectors, OnoTesla varied releases are united by a common commitment to the left of field, operating on these fringes allows the room for a full and rich vision.
Garth BE (Sweet Sticky)
Last time round Garth's stall supplied nearly everyone in the building with a piece of wax before the night was out! Casual collectors and vinyl junkies alike couldn't help but delve into his his party bargins. Expect to see the sort of soul, jazz and funk deep cuts that will keep even the most avid sample searchers on their toes. Also keep your eyes peeled for copies of his much lauded HIPNOTONY album which came out last year on his own imprint Sweet Sticky.
M4 Records
https://www.instagram.com/m4records/
None other than Manchester's very own M4 records, the brainchild of Andrew Macca. Who will be bringing his hand curated selection of banging tunes! (for want of a better term)
His Manchester city centre based online record store has operated since 2014, supplying new and second hand vinyl records. Refined and across the board selections.
Website – www.M4records.com
And more TBA!!!!!!!"
Posted in Events