Pondwater 10/05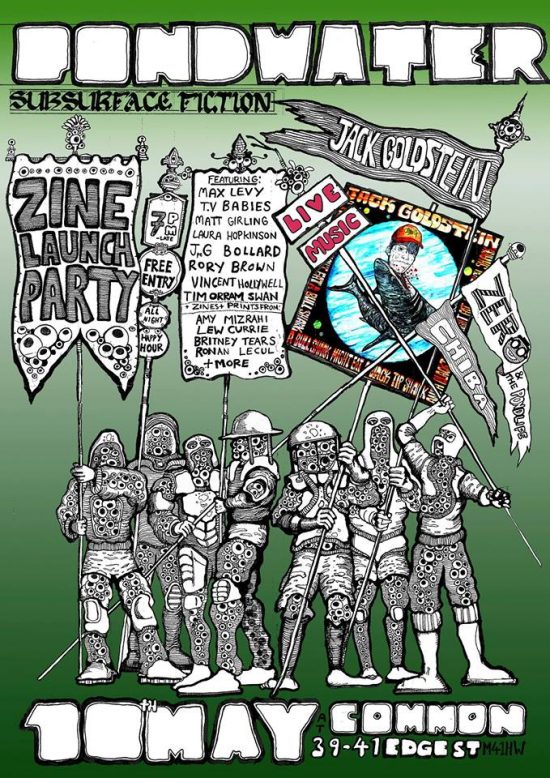 PONDWATER ZINE LAUNCH and LIVE BANDS
Thursday 10th May 2018 / free entry
Common
Tadpoles unite.
PONDWATER is a new subsurface fiction anthology zine.
Contributing froglets include;
Max levy
Tim Orram Swan
Laura Hopkinson
TV babies
Vincent Hollywell
JpeG Bollard
Rory Brown
Matt Girling
+live music from
JACK GOLDSTEIN
Jack Goldstein makes Experimental Lo-fi Power Pop/Emo. He has released two records in the last six months. The first, titled 'Sandwiches', is a Brian Wilson-esque song-cycle thats hung up on a love between a Google image search of Honolulu and the IRL Oxfordshire village that Goldstein grew up in.
His latest record, 'A Tiger Shark Might Eat A Bull Shark, A Bull Shark Might Eat A Blacktip Shark And A Blacktip Shark Might Eat A Dogfish Shark', is an outlaw country break-up album that deals with the the tension of aloneness and systems of power.
jackgoldstein.bandcamp.com
facebook.com/jackgoldsteinmusic/
+CHIBA
saurian lo-fi lounge crooners from the big smoke.
+ZERO and the PONDLIFE
Green, fury and absurd. A dangerous waddle through a digital wilderness.
Also loads of Zines/ Comics/ Prints from local creators;
Britney Tears
Ronan Clowes
Amy Mizrahi
Lew Currie
+ more
HAPPY HOUR ALL NIGHT
FREE ENTRY
DRESS CODE: amphibious delinquent/ just come strait from work.
this event is a safe space; racism, homophobia, misogyny, transphobia or Discrimination of any kind not tolerated.
Venue is Wheel chair accessible
Posted in Events