Odd Bod Xmas Market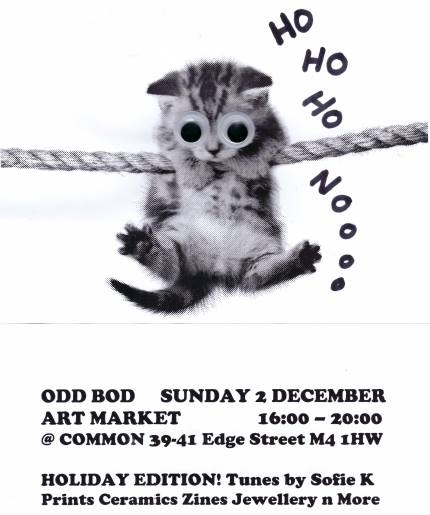 ODD BOD ART MARKET 
Sunday 2nd December 2018 
4pm – 8pm
Common
The Odd Bodders are back with a wintery festive edition of their Art Market!
The Odd Bod team bring you artist stallholders galore peddling the freshest TEXTILES, ZINES, JEWELLERY, PRINTS, ORIGINAL ARTWORKS, GARMENTS and more.
Artists include:
David Bailey @bathedailey
Marie Jones kochi-kochi.co.uk
Nyree Waters @nyree_____
Hannah Marshall @hannah____marshall
Paul 'himHallows' Hallows @himhallows
Emily Tilzey www.emilytilzey.com
Hannah-Michelle Bayley @hannahmichellebayley
Tom Bingham @TomDrawsDogs
Amrit Randhawa @vtsdesign_
Isadora Darke @iisadorarodasii
Amy Victoria Marsh @yayvm
Stina Puotinen @stina.p
Mariel Osborn / COVET interiors @covetinteriors
Caroline Dowsett @caroline_dowsett
Aliyah Hussain Jewellery @ahussain.jewellery
Music on the evening supplied by No.1 Selecta – Sofie K (NTS)
Facebook event page HERE.
Posted in Events