Murmur #8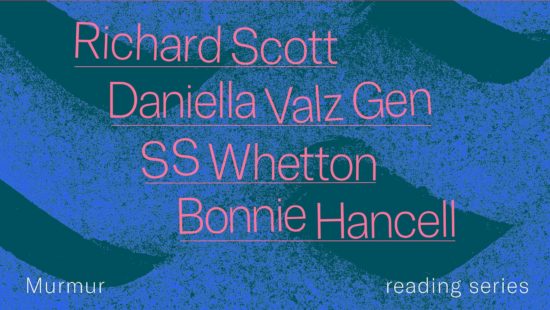 MURMUR #8 Reading Series
14th April / 6-8pm / Common / free
Featuring…
RICHARD SCOTT
DANIELLA VALZ GEN
SS WHETTON
BONNIE HANCELL
+ Monitor DJS
Readers:
RICHARD SCOTT was born in London in 1981. His poems have appeared widely in magazines and anthologies including Poetry Review, Poetry London, PN Review, Swimmers, The Poetry of Sex (Penguin) and Butt Magazine. He has been a winner of the Wasafiri New Writing Prize, a Jerwood/Arvon Poetry Mentee and a member of the Aldeburgh 8. His pamphlet 'Wound' (Rialto) won the Michael Marks Poetry Award 2016 and his poem 'crocodile' won the 2017 Poetry London Competition. His debut collection, Soho, was published by Faber & Faber in 2018.
–
DANIELLA VALZ GEN is an artist and writer born in Lima and based in London. Her work investigates different forms of embodying liminality, and reflects on negotiating territories, modes of address, and value systems.
Recent projects include: What are Words Worth / Sentient Value Systems, with Taylor Le Melle and Serpentine Education Projects; From a Creative Case to an Ecology of Care, an ongoing collaboration with Jade Montserrat; and Colaborar is The Name of the Game with Sin Fronteras, hosted by LAWRS (Latin American Women's Rights Services). Her writing has been featured in Montez Press' Interjection Calendar 002 as well as E.R.O.S. VII and E.R.O.S. VIII, published by EROS Press. Subversive Economics, her first poetry chapbook, was published by PSS in 2018.
–
SS WHETTON is a writer, seamstress and graphic designer working from the London Centre for Book Arts. Recent projects include publications with The Bower, Harriet Plewis, and A6 BOOKS. Together with artist and educator Esther McManus she launched the imprint Temporal Drag, which re-publishes copyright free texts to put them in conversation with new ones; considering the potential that arises from engaging with 'obsolete' practices and ideas in the here and now. She began writing fan fic as part of a friendly seduction in 2015, and in 2017 she published Love is Real, a collection of John Maus fan fiction, as Susan V. Sappe.
–
BONNIE HANCELL is a trans/queer artist, autodidact, and writer from the North of England. She has been published by New River Press, Penny Thoughts and Dread.
*
Common is a fully accessible venue.
Poster by Joe Haigh/Chaosmos with textures by SS Whetton.
Posted in Events