Halloween Bingo! 31/10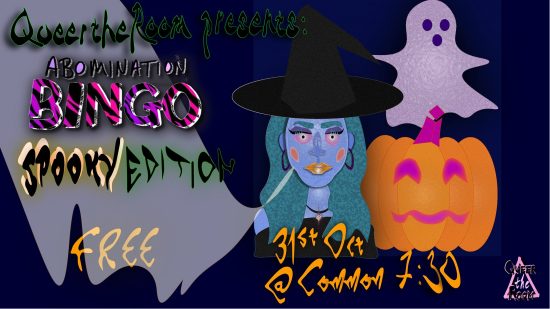 QUEERTHEROOM presents ABOMINATION BINGO SPOOKY EDITION
Wednesday 31st October 2018 | 7.30pm – late
Free entry
Fancy dress encouraged!
It's the most wonderful time of the year!
Everybody gather round the cauldron (aka Common) for our second instalment of Abomination Bingo but this time it's gonna get spooky.
Come gals, ghouls, enbies and zombies for we have TRICKS AND TREATS GALORE, with an EXTRA PRIZE FOR BEST DRESSED!
This FREE monthly extravaganza is all about bringing people together through the art of gambling plus some boozing and prizes 🎲🎁🎉
Come and gamble like your gran, but gay! It's part bingo and part battle. Snatch the crown and soak up the glory 👑
There'll be plenty of surprises on the night so gather your gaggle of gays or your femme favs cos they're not gonna want to miss this!
Everyone is welcome. Come with friends or to make friends; if you have no-one to come with message one of the hosts and we will make sure you have a familiar face on the night.
The venue is wheelchair accessible and all toilets will be gender neutral.
Facebook event page HERE.
Posted in Events