EVENTS 22/03-31/03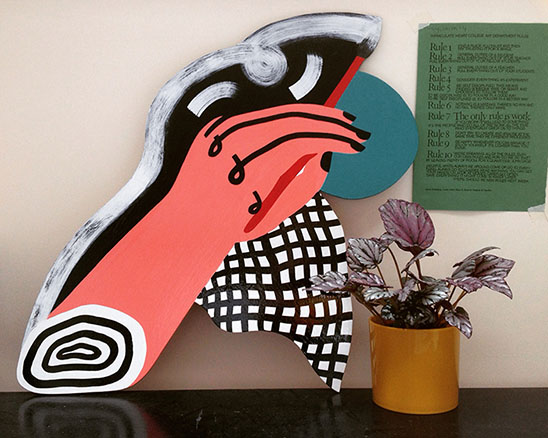 Big things, chicken wings. Take my hand, we're off to Never Never Land…
THURSDAY 22nd MARCH 2017 / 6-9pm
LUCY SHERSTON TENDER COMPULSIONS 
Exhibition Opening 
w/ FREE BEER and SMS DJ PARTY
I couldn't be more excited about this if you poked me in the eye and rolled me into a burrito. Lucy Sherston's work is absolutely mint and this exhibition will be a joy. Come to the unveil and drink some free beer from Brighton Bier and drink in some great textile, prints, and wooden paintings. All the while being soothed by segsational tones from fabled Manchester DJ troupe, Stop Making Sense. Or stay home and insert sausage rolls up your exhaust pipe as per. DON'T MISS IT. THIS IS MINT. IT WON'T HAPPEN AGAIN. Bring money, there's mint tea towels and tote bags for purchase. I love what you've done with your hey hey hey hey hey. Lucy Sherston! World's greatest!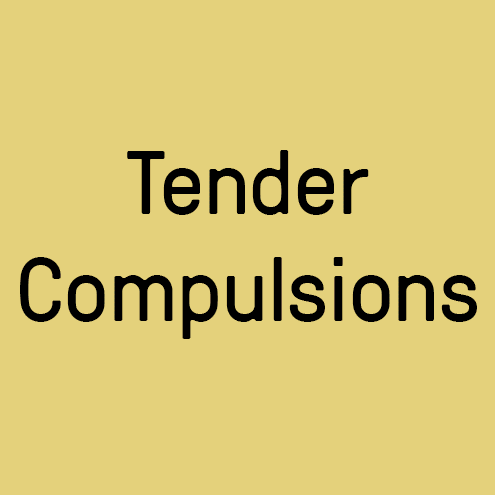 FRIDAY 24th MARCH 2017 / 8-late / DJ PARTY
SWINDELLS
I couldn't be more excited about this if you zipped me up in a sleeping bag and rolled me down a grassy bank. The great Kev Swindells swoops in Common once more like a graceful swan landing on a silver lake. He's got bangers, he's got a fine sensibility, he know what you want and how you want it. Milk, two sugars. Good times, great times, best times. Dancehall, pop style, r 'n' b, house, soul. You nose it, Swindells grows it. Greenhouse effect. 2017.
SATURDAY 25th MARCH 2017 / 8-late / DJ PARTY
BIG PEACE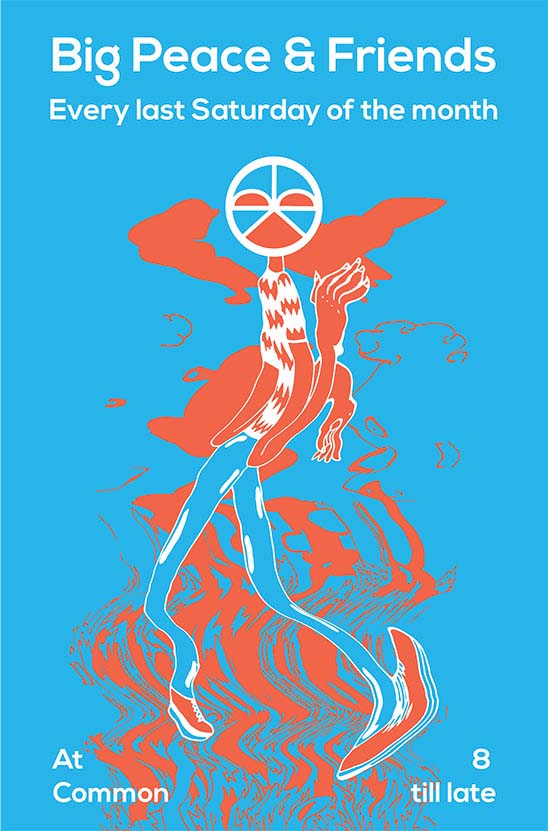 I couldn't be more excited about this if you baked me into a big pie and left me to cool on the window sill for a passing bounder to swipe. Swipe right. Big Peace drops the biggest DJ Party of your life off the backboard into the net. Swag. No hands. Look, Mum. No hands. Swag. Generic Greeting alumni and professional Saturday night slayer Rich Big Peace has been known to play the classics, the rare bangers, the hip-hop, the dance pants. Emphatic victor. He took his head clean off.
SUNDAY 26th MARCH 2017 / 4-late 
ONOTESLA SHOWCASE
STUART CHALMERS (live) and KARL D'SILVA (live)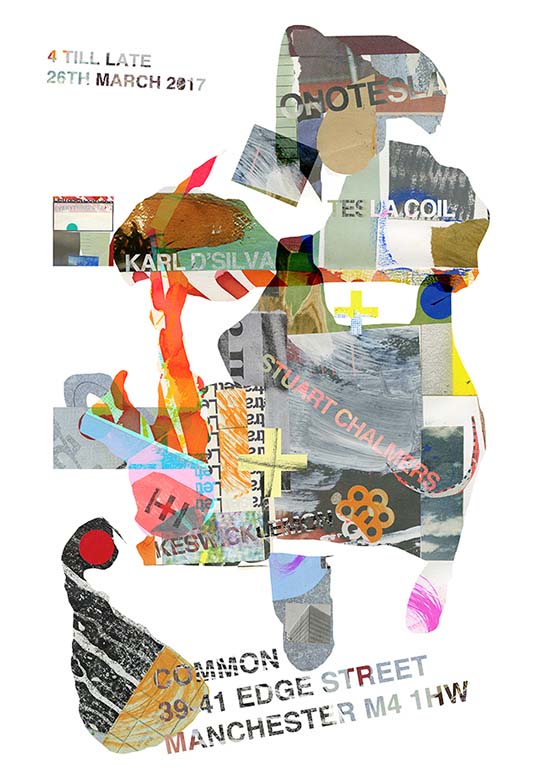 I couldn't be more excited about this if you replaced all my fingernails with prawn crackers and threw me into a room temp vat of sweet and sour sauce. Michael Holland, he of HAXAN legendary status, comes to Common to lay on a free evening of LIVE and DJ entertainment with a OnoTesla special occurrence. Dream status unlocked. 10,000 chi units. Here's what Michael says about the line up,
"Part of Common's new esoteric experimental sunday sessions OnoTesla will be taking control of the soundsystem for the evening to have some of our favourite music playing and two special live acts coming from far flung corners of the british isles.
Stuart Chalmers is an Ono released artist with a huge apetite for sound and an extensive selection of recordings are available here. https://stuartchalmers.bandcamp.com/ Stuart has collaborated with many many people, each release a little gem in its own right.
Karl D'Silva is new to town and a close friend of us at OnoTesla. Some might know him from his collaboration with Ecka Mordecai and Otto Wilberg at the mill just recently, a bit of a special moment for me. Karl is also part of the very exciting Drunk In Hell !
Tesla Coil (Paddy Shine) and Keswicklemon (Ono) will be spinning tunes to soundtrack the moments in between the performances."
SUNDAY 26th MARCH 2017 / all day 
MOTHER'S DAY FREE MIMOSA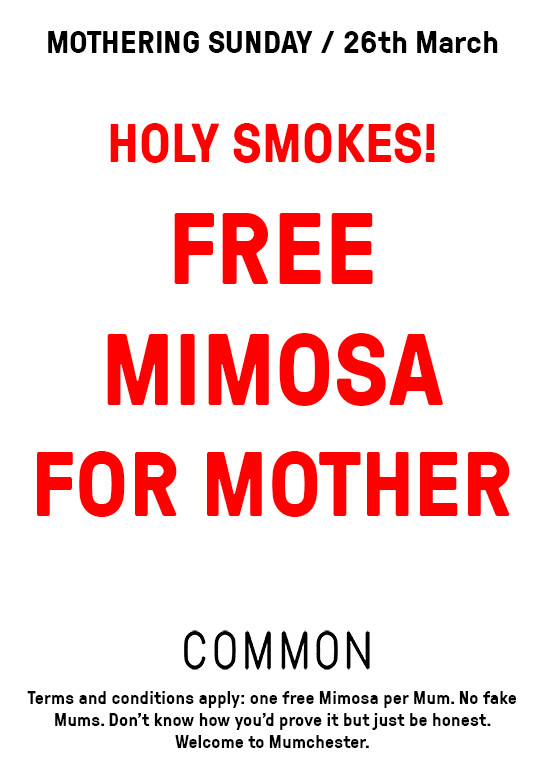 I couldn't be more excited about this if you fanned a thousand winning scratch cards in my face and said, "do what you want with the winnings, it's not about the money for me, it's about the taking part". This is a motherf*cking great deal if you're a MUM. And lets face it, who isn't these days. Show your Mum card at the bar to get a free MIMOSA all day long while stocks last. Mimosa? More like MUMOSA. Am I right, Mums? Can I get a hells yeah? One per Mum. One Mum in, one Mum out. Bring your Mum out to get her free Mimosa. Mmmimosa. Mimosa Lisa! Mums on toast!
TUESDAY 28th MARCH 2017 / 12-9.30pm 
BOGOF BURGERS
I couldn't be more excited about this if you tucked me up in a brioche and slathered me in BBQ sauce. BOGOF BURGERS for Common members. This is an incendiary offer and it happens every Tuesday. Don't be a nugget.
WEDNESDAY 29th MARCH 2017 / 6-9pm
COLOURING CLUB / CRAYON CLUB
I couldn't be more excited about this if you grabbed my legs and wheelbarrowed me around the grounds on a sunny afternoon at your cider farm. Camille and Amy turn their heads to the humble crayon this month for a CRAYON CLUB special. Weave your waxy wand (ew?) and conjure up a Mona Simpson with your crayola nub. Dah war I'm talkin abou. Free! Materials provided! Thanks Fred Aldous! 
THURSDAY 30th MARCH 2017 / 6-late
PICA~SOUNDS w/ KICKIN' PIGEON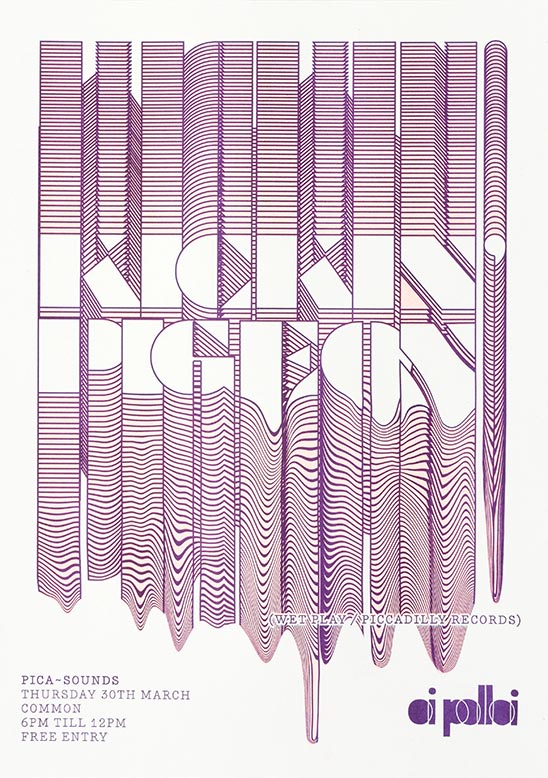 I couldn't be more excited about this if you dressed up as Dom Joly doing the snail across a pedestrian crossing. Pica~Sounds, the DJ arm of the best clothing shop in the world OI POLLOI, return to Pintchester for their monthly slot at Common. Infinite respect. This month they are joined by Piccadilly Records and Wet Play legend, Kickin' Pigeon. Come watch him do the opposite of booting a pigeon down the street. Oi Polloi residents tag team. Flawless.
FRIDAY 31st MARCH 2017 / 8-late
SOUNDS FROM THE OTHER CITY DJ PARTY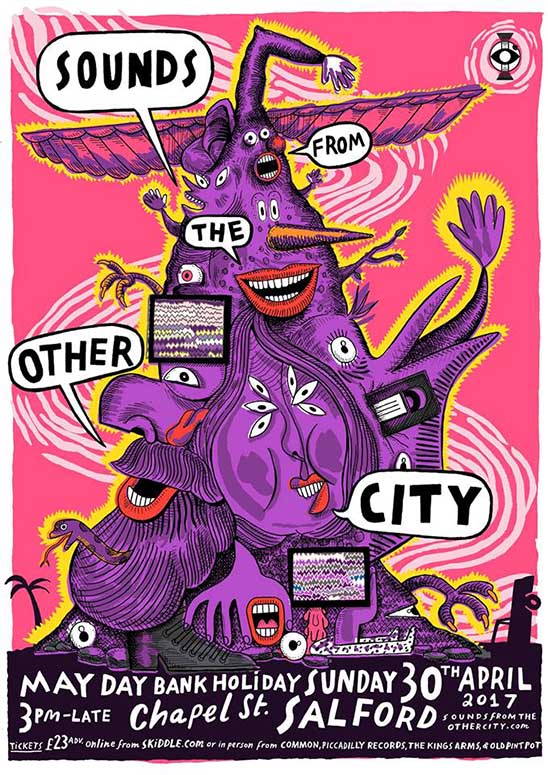 I couldn't be more excited about this if you got a tattoo of my face on your face. The best festival in Salford, nay, THE WORLD gets that hype funnel, flips you upside down, and jacks it in your auxiliary socket. Choice selectors from the SFTOC roster. Info on that line-up soon but you know it'll be Maxibon (massively good). Going to Sounds on 30th April? You best not miss it, señor melt master.
Posted in Events