EVENTS 22/02-01/03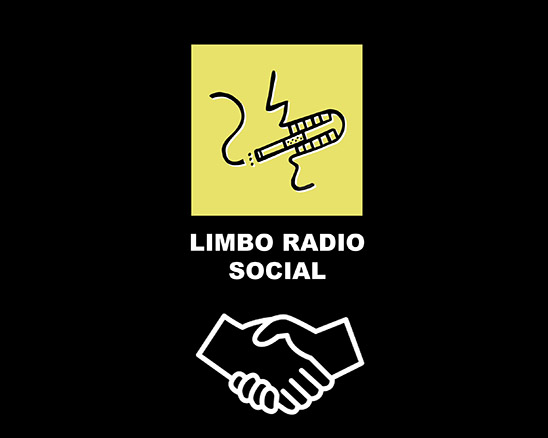 Oh big boy bananas. I am telling you. Viddy below. Shine.
Wednesday 22nd February 2017 / 6-9pm / free entry
COLOURING CLUB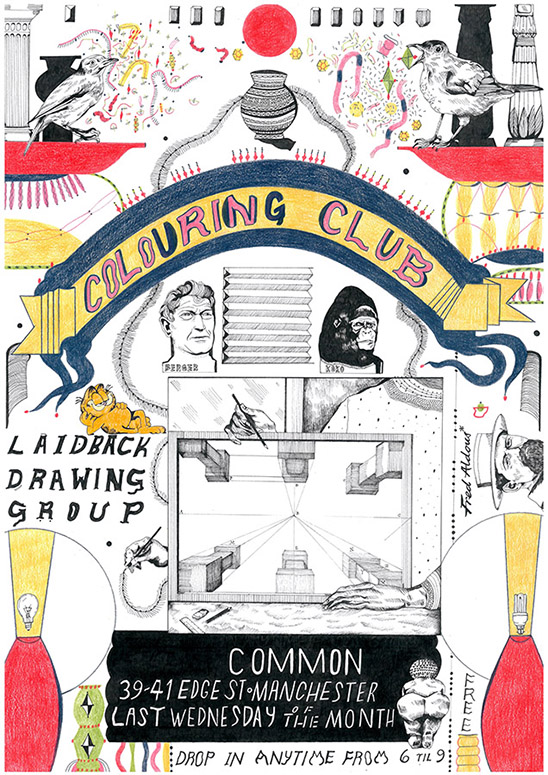 Yes my baby. Colouring Club returns all cut up to become COLLAGE CLUB for one month only. Honchos Amy Minto and Camille Smithwick lead the way with a tantalising pile of source material from which for you to appropriate as you see fit via the medium of scissors, imagination, and glue stick. You know. Collage. The ORIGINAL cut and paste. Get into it. Free to attend and materials are provided as ever. Kindly supported by the boss hogs at Fred Aldous. Colouring Club occurs on the LAST Wednesday of every month.
Thursday 23rd February 2017 / 6-late / free entry
PICA~SOUNDS
Byker! Grove! Pica~Sounds returns for their last Thursday of the month slot to bring you the best dressed music you've ever heard from the hands of legendary pop-pickers, Oi Polloi. This month is a residents special so expect star melts from Stuart Fear et al.
Friday 24th February 2017 / 8-late / DJ Party / free entry
LIMBO RADIO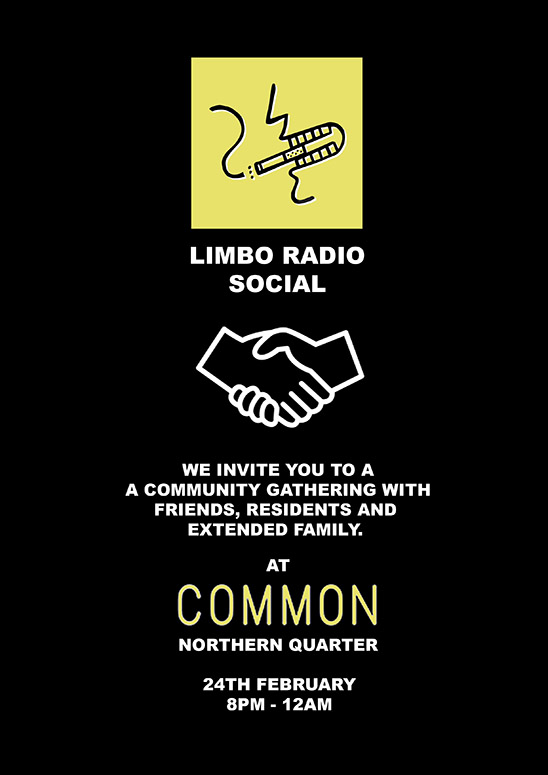 Manchester-based radio collective, Limbo Radio, host a party to end all parties and live broadcast from the battleground to boot. Here's what they're sezzin…
"Limbo Radio invite you to the first of a series of community gatherings with our friends, residents and extended family.
Join us at Common in Northern Quarter for an evening of drinks, music and dancing. We'll be joined by some of the people behind the best events and labels Manchester has to offer – a perfect opportunity to meet like-minded individuals from across the city in a great environment!
Music will be supplied by:
Mike O'Mara (Inside Out Mcr/ Limbo Radio)
Bitzer Maloney (Bakk.Heia/ Limbo Radio)
J. Derecho (CULT/ MAYDAY/ Limbo Radio)
Rubble & Spunk (Limbo Radio)
The event will be streamed live on Limbo Radio, from our website:
www.limbo.live"
Saturday 25th February 2017 / 8-late / DJ Party / free entry
BIG PEACE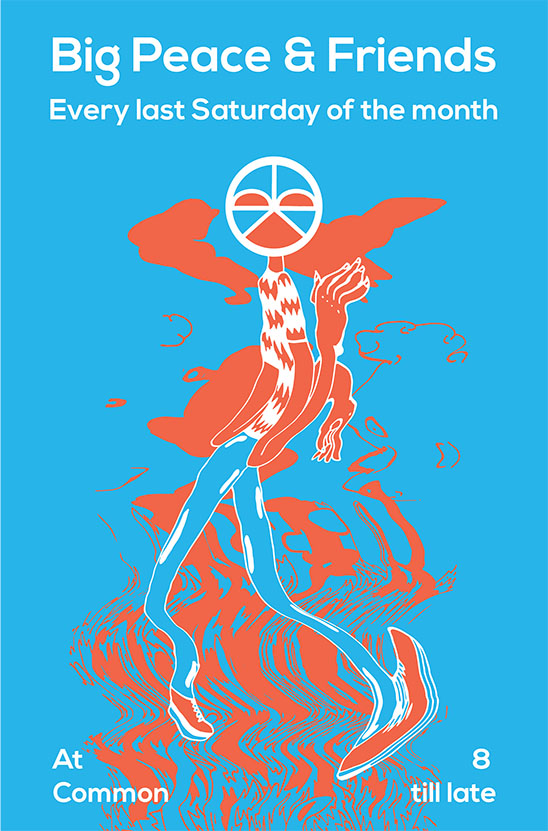 Rich James AKA Big Peace of Generic Greeting returns to Common for the second Saturday night on the bounce because he's THAT much of a beast. Big Peace sets encompass esoteric from around the globe, from dubbed down dance music to street soundsystem selections.
Check Big Peace out on NTS here.
Sunday 26th February 2017 / 4-9pm / LIVE / free entry
SACRED TAPES LABEL SHOWCASE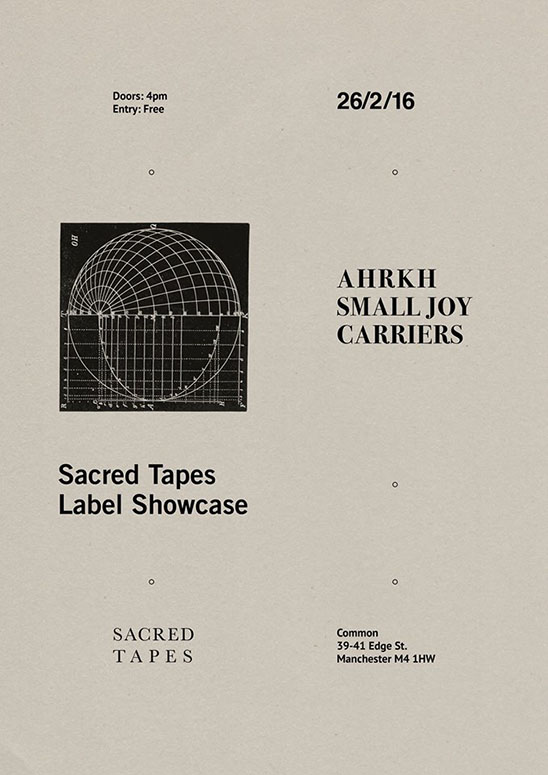 Say whaaat. Live experimental triple bill from Manchester tape label, Sacred Tapes. In the second of Common's series of label showcases we have invited Callum Higgins' Sacred Tapes to program us a night of music. With accolades from The Wire, shows at Cafe Oto, and even a piece of music documented in the British Library, Sacred Tapes are on the forefront of the UK experimental scene.
Acts for the night are:
AHRKH
AHRKH is the solo project of Gnod's Alex Macarte. Alex uses modular synth and voice to create mediative drones and has had two release on Sacred Tapes
Small Joy
Small Joy is a Manchester-based noise artist, making music since 2014. She has released two cassettes on i hate my records. Bling. 
Carriers
Carriers is the current solo project of Christopher Wigglesworth-Anderson who has also released on Sacred Tapes with the re-issue of album Moskenstraumen. His most recent Carriers album 'Great Silence' came out back in March 2015 and was described by bleep.com as "Possibly the most crucial artefact yet from this increasingly intriguing imprint"
artwork by Lewis McLean.
Monday 27th February 2017
CLOSED
Tuesday 28th February 2017 
PANCAKE DAY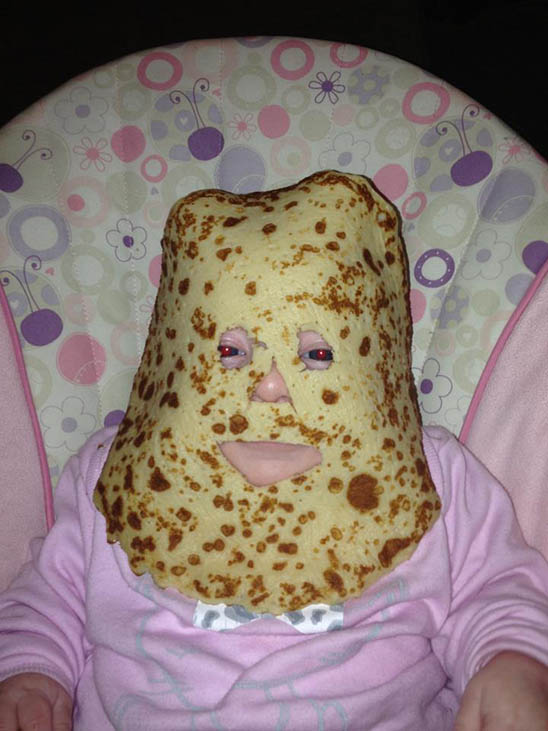 Come pay homage to the pancake god as he sits in his pearly cot on TUESDAY. To celebrate his rising from the hot coals of hell we are doling out a free pancake with every drink purchase all day long. That's right. PANCAKE DAY. Same day as Shrove Tuesday for the 500th year in a row. When will the year planners learn? Another unfortunate clash. Sad! Side note: if you're going to Shrove Tuesday instead of Pancake Day you are a tuna melt of the lowest rank. Pancake Day rules, Shrove Tuesday drools. What even is a Shrove? Obsolete software. Come get some pancake hardware. PANCAKE GOD INCOMING.
Topping options will be seminal i.e. sugar, lemon, Nutella etc. Chong on you crazy Dime bar.
Wednesday 1st March 2017 / 7.30-10.30pm / free entry
RED DWARF QUIZ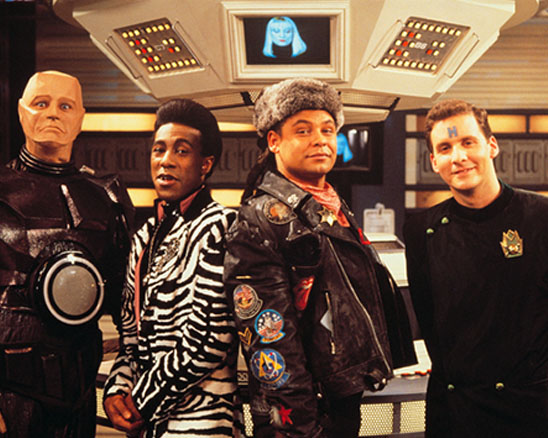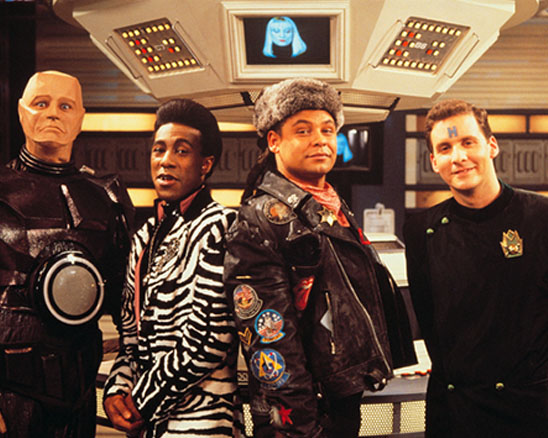 Jeepers creepers. The one you've been waiting for. Common Knowledge bring you a RED DWARF themed quiz.
"What up smegheads, Common Knowledge has finally relented and given you what you want – a quiz on Red Dwarf! Its been the most requested of all themed quizzes and finally it's an eventuality.
Whether you have the same IQ as a glass of water or 6000 PE teachers, join us to test the entire vista of your intellect, accompanied by consumption of fermented vegetable drinks and soundtracked by Funking Up Wagner and Reggie Dixon's Tango Treats.
Expect questions on Space Corps Directives, villains that can't shoot straight, the crimson short one (obvs) and the boys from the Dwarf but be warned – this quiz will only focus on Series I – VI. Don't mention Series 8, or Mr Flibble will be very cross.
Bar tab prizes!
Facebook event page HERE. Say you'll be there!"
Common Knowledge. Pow.
Posted in Events