Embroidery Workshop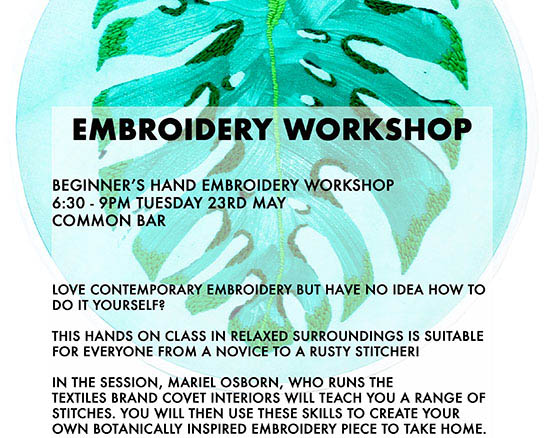 BEGINNER'S HAND EMBROIDERY WORKSHOP
Tuesday 23rd May 2017 / 6:30 – 9pm
at Common
We are very excited to be holding an embroidery workshop at Common with the fantastic Mariel Osborn. Mariel is the current Cloudwater artist and operates as a successful homeware designer and prop artist in Manchester as well as dishing up the occasional special workshop such as thus…
Love contemporary embroidery but have no idea how to do it yourself? This hands on class in relaxed surroundings is suitable for everyone from a novice to a rusty stitcher! In the session, Mariel Osborn, who runs the textiles brand Covet Interiors, will teach you a range of stitches. You will then use these skills to create your own botanically inspired embroidery piece to take home.
All materials are provided, so all you need to do is bring yourself along.
Classes are kept small so that you get as much attention as you need and can ask any questions.
This Beginner's Hand Embroidery Workshop is £35 for a single ticket or £60 for two people.
Posted in Events