Craft Beer vs. Natural Wine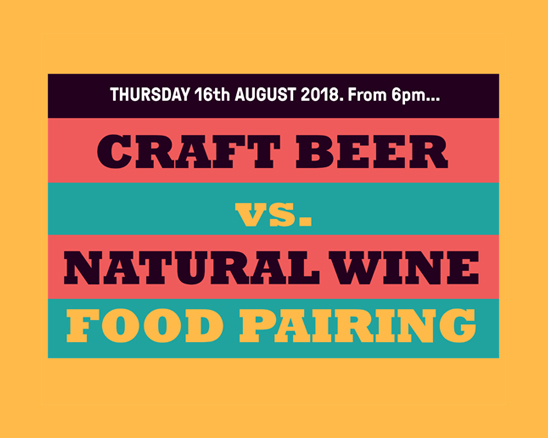 CRAFT BEER vs. NATURAL WINE FOOD PAIRING
Thursday 16th August 2018
6pm / 7pm / 8pm
£40adv. tickets
Common
We are excited to bring you a very special one-off evening of…
THREE COURSES
THREE CRAFT BEERS
THREE NATURAL WINES
The beers are from Shepton Mallet's renowned WILD BEER CO. The wines are from Manchester's pre-eminent natural wine enthusiasts and enablers, LOVE + LABOUR. The food will be something very special from the Common kitchen. See below…
—
MENU
—
1st:
DEEP FRIED WENSLEYDALE with passion fruit coulis
(Vegan option: as above but with VEGAN CHEESE)
paired with…

Wild Beer Co | Squashed Grape | 5%
Flavours: Tart, Grape, Complex, Funky. Assertive acidity, bright pink colour!
"Grape must is discarded as a waste product at vinyards, only the juice is kept. However, this is where all the natural, wild yeasts are and we wanted to harness these unique bugs to sour bring them to beer. We used white grapes at the beginning of the fermentation to add sourness and then red grapes in the conditioning to add extra flavour and funk."
AND wine from Love+Labour…

Weingut Fuchs & Hase Pet Nat Vol 4 | 2016 | 10.5%
Kamptal, Austria (Organic, Vegan)
Gentle pressing of grapes, three week natural yeast ferment, twelve days skin contact. Unfiltered, unrefined. White stone fruit, white flowers, yeast, toast.
—
2nd:
HAKE with puffed rice, salsa verde, pea and broad bean, onion ash and pickled shallots
(Vegan option: as above but with BANANA BLOSSOM)
paired with…
Wild Beer Co | Maison #3 | 5%
Saison + Wine Yeast + Floral Hops
"For our third iteration in our Maison – Saison series we have used the previous brews as inspiration for a wine inspired take on the traditional Saison. Using both wine yeast and vinous tasting hops, it's brought a crisp freshness to beautifully balance this Saison's richness. The result is a compelling beer both sweet & dry with an underlying bitterness."

AND wine from Love+Labour…
Jumpin' Juice (Yellow) | 2017 | 13.5%
Ellinbank, Australia (Organic, Vegan)
Sourced fruit, natural ferment partly on skins. Next to no intervention, unfiltered, unrefined. Aromatic, earthy, farm fun, good acid.
—
3rd:
BOURBON GLAZED BELLY PORK with celeriac puree and apple crisp
(Vegan option: as above but with BOURBON JACKFRUIT) 
paired with…
Wild Beer Co | BEYOND MODUS IV | 8%
Barrel aged sour red ale
"An annual release taking our flagship beer Modus Operandi which is a blended sour red ale, aged in red wine and bourbon barrels and then re-ageing that blend in more wood for further maturation, building complexity and intensity."
AND wine from Love+Labour…
VN (Vinel.lo) TINTO | 2017 | 10.5%
Penedes, Catalonia (Organic, Vegan)
Field blend fermented separately. Blended into stainless steel and left to settle over Winter on fine lees. Unfiltered, unrefined. Light, aromatic, gentle tannins, ripe red and black fruit, balanced.
—
Alongside the above food offering, there will also be a full VEGAN offering available. Please contact us with any dietary requirements or any questions.
Please book your tickets according to the time you wish to begin your pairing. Options are 6pm, 7pm, and 8pm.
This is a limited ticket event so please book early to avoid disappointment.
Tickets are £40 advance and include all your food and drink on the evening: Three courses, three Wild Beers, three natural wines.
Tickets are available HERE.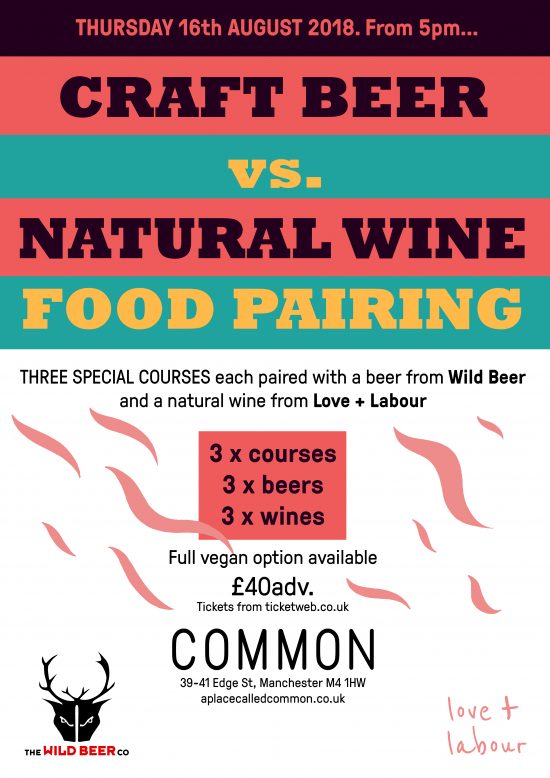 Posted in Events