Art Week! 20-25/03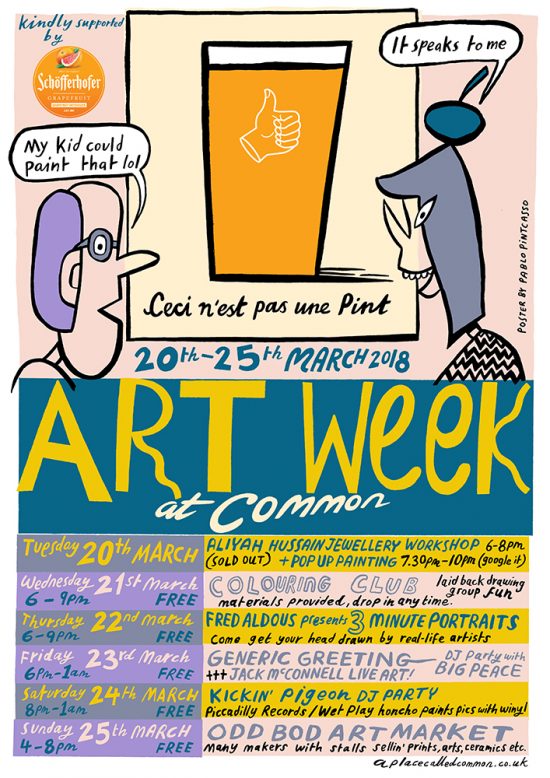 ART WEEK
20th-25th March 2018 
Common

Hoots man! We're back with another killer Art Week line-up for the second year running. Here's what be popping off…
Tuesday 20th March 2018 / ALIYAH HUSSAIN JEWELLERY WORKSHOP / 6-8pm / SOLD OUT
Wednesday 21st March 2018 / COLOURING CLUB / 6-9pm / free entry
Colouring Club present a CAVE ART special edition of Colouring Club. Come down and partake in this free to attend laid-back drawing group. Drop in any time. Materials are provided and this time the flavour is charcoal so come get pre-historic. Facebook event HERE.
Thursday 22nd March 2018 / Fred Aldous presents 3 MINUTE PORTRAITS / 6-9pm / free entry
Best art shop in Manchester (and Leeds) / THE WORLD Fred Aldous host one of their special 3 Minute Portrait evenings at Common. Come get your noggin noodled and doodled by a sprinkling of the city's finest artists. Yours for a v humble donation and early comers will get a free half of Schofferhofer when they have their portrait drawn. Like being at the hairdressers and getting a glass of Prosecco but way way better!
Friday 23rd March 2018 / GENERIC GREETING PARTY / 6pm-1am / free entry
Live art from illustrator Jack McConnell on our windows + live records from our fave, Big Peace.
Saturday 24th March 2018 / KICKIN' PIGEON DJ PARTY / 8pm-1am / free entry
Piccadilly Records / Wet Play maestro KP goes hard into the heart of Saturday night.
Sunday 25th March 2018 / ODD BOD ART MARKET / 4-8pm / free entry
One of One and Colouring Club present Odd Bod Art Market – 18 or so of the city's creatives with goods aplenty, ranging from prints to ceramics to apparel to gosh knows what. Come down and have a heavy browse. Facebook event HERE. 

ART WEEK is kindly supported by Schofferhofer. Schofferhofer, for the uninitiated is a wheat beer x grapefruit juice medley that you'll find as a permanent line at Common all the days of the week. Sounds weird, eh? It's a revelation! Uber quench sup sup juice clocking in at a captain sensible 2.5% which means you can stay hydrated by the pint-load. It's crazy refreshing and if you haven't experienced it yet, now is the time. 
Posted in Events